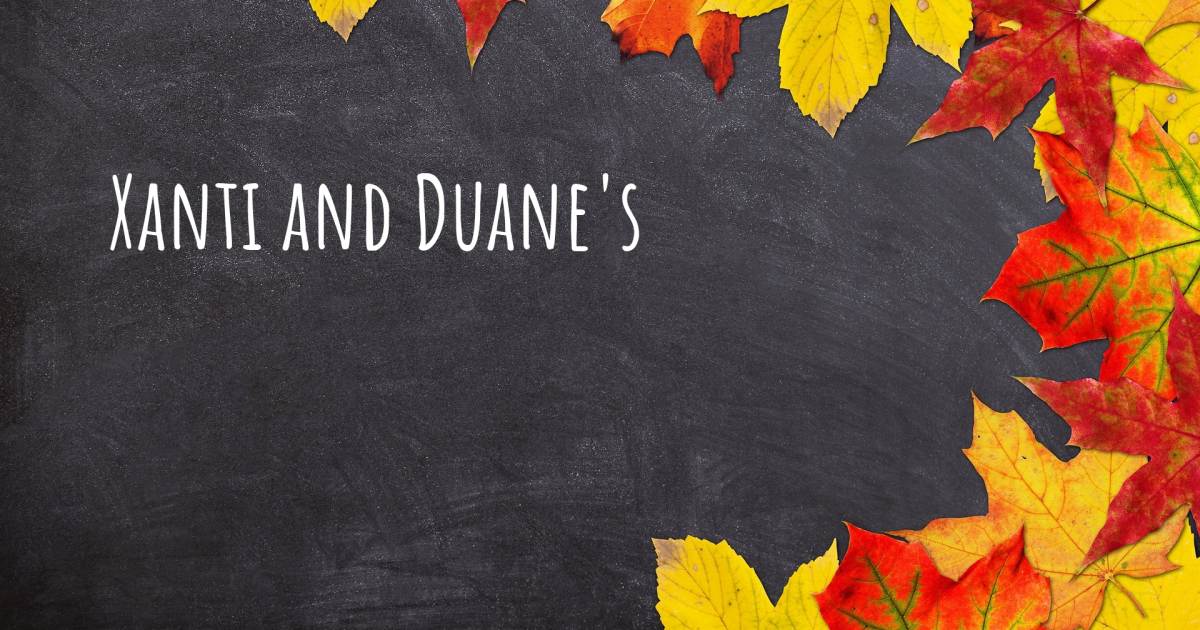 Xanti and Duane's
---
 

Xanti (male)

 

Date of Birth: September 14, 2006

 

Date of 1st diagnosis: April 3, 2008 by Dr. Walter Fierson. Duane's Syndrome. Suggested one surgery only, the MRR.

 

Date of 2nd opinion diagnosis: May 21, 2008 by Dr. Arthur Rosenbaum at UCLA Jules Stein Eye Institute. Dr. Rosenbaum diagnosed Xanti with Duane's Syndrome, with left eye esotropia. Left face turn 20-25 degrees with right tilt. No abduction in left eye. He could not cross midline. Dr. Rosenbaum discussed surgery options and felt that Xanti needed both the VRT and MRR.

Official diagnosis:

Type I: Limited abduction with esotropia

Double vision present, as well.

 

 

AUGUST 21, 2008: SURGERY #1 (VRT- VERTICAL RECTUS TRANSPOSITION)

 

* LEFT INFERIOR RECTUS TRANSPOSITION TO LEFT LATERAL RECTUS INSERTION WITH POSTERIOR FIXATION.
* LEFT SUPERIOR RECTUS TRANSPOSITION TO LEFT LATERAL RECTUS INSERTION WITH POSTERIOR FIXATION.

 

 

 

November 7, 2008: Responded extremely well to VRT surgery. He went from a 20-25 degree head turn to a 5-degree head turn. Still has right head tilt, more noticeable now.

 

 

February 23, 2009: 5-degree head turn and now only 3-degree right head tilt.

 

 

 

MARCH 3, 2009: SURGERY #2 (MRR- MEDIAL RECTUS RECESSION)

 

* LEFT MEDIAL RECTUS RECESSION, 3.0 MM

 

 

 

March 4, 2009: Written by Dr. Rosenbaum, "Marked improvement"!

 

May 6, 2009: GREAT IMPROVEMENT. Xanti now only has 2-3 degree head turn, slight right tilt, however now has increased abduction of left eye.

March 3, 2010: Xanti Dr. Federico Velez at UCLA due to Dr. Arthur Rosenbaum's illness. No face turn and is doing great!

 

June 22, 2010: Dr. Arthur Rosenbaum passed away. :(

October 29, 2010: Head tilt right 3-degrees.

Visits to UCLA every 6 months.

October 22, 2012: Xanti doing well, but Dr. Federico Velez suggested an LSO due to vertical misalignment causing right head tilt.

 

LATE NOVEMBER, 2012: LSO ANTERIOR TENECTOMY TO TRY TO CORRECT THE VERTICAL ALIGNMENT.

 

December, 2012: Post op showed great results from LSO surgery and follow ups are now once a year to UCLA.

 

No vision issues whatsoever and no issues in school. Torticollis still present(small head tilt right) and hypertropia of right eye(left eye small hypotropia in horizontal gazes. Stable. ). These will most likely always be present.  He can live a normal life and it doing wonderfully!

Thank you Dr. Rosenbaum and Dr. Velez at UCLA, from the bottom of my heart.

 

 

 

---